Jarrow hospice to close temporarily due to doctor shortage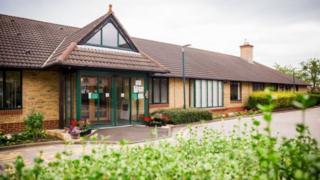 A hospice in South Tyneside is being forced to shut for three weeks because of a shortage of doctors.
Bosses at St Clare's Hospice in Jarrow said they had recently recruited three new doctors, but because the process took so long, there were delays in their start dates.
The charity, which relies on specialist palliative care and end-of-life doctors will shut from Monday until 12 August.
One remaining in-patient will stay at the hospice and the other will go home.
A spokeswoman for the centre said staff were working closely with Marie Curie, St Benedict's, and St Oswald's hospices, as well as South Tyneside NHS Foundation Trust.
The charity said staff would use the time the centre was closed to refresh staff training and "pursue development opportunities."
'Patient safety'
Hospice chief Avril Robinson said: "While recognising that the decision to pause services has not been an easy one to make, we cannot provide care and support to our patients and their family members without maintaining best and safe practice."
She added that the hospice would have a full complement of physicians by mid-August
The hospice's annual running costs are just under £2.2m and it needs to raise at least £1.8m in funds each year.
It has capacity for eight residential patients and 15 day patients.
Dr Shaz Wahid, medical director at South Tyneside NHS Foundation Trust, said: "We recognise this has been a difficult decision for our partners at St Clare's Hospice.
"However patient safety is paramount and must always come first."