Newcastle great-grandmother fends off burglar with back scratcher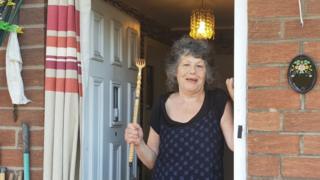 A great-grandmother who chased a burglar out of her home with a back scratcher has been praised by police.
Joyce Ross was in her ground-floor flat in Denmark Street, Newcastle, when she heard the male intruder enter through the unlocked front door.
When he refused to leave, the 73-year-old armed herself with a wooden back scratcher and screamed "get out".
Northumbria Police said the great-grandmother-of-four acted with "great courage and composure".
Mrs Ross was treated for a small cut to her head sustained in a brief struggle with the man.
She later discovered a canvas handbag had been taken in the Monday evening break-in.
'Easy target'
Mrs Ross, who has lived in the property for 18 years, said: "He was just standing there and was off his face.
"I asked what he wanted but he just mumbled. I just kept shouting 'get out, get out, get out'.
"I picked up my back scratcher and tried to hit him. We started to scuffle and he pushed me. That's when I hit my head on the door frame.
"Eventually I managed to push him out.
"It still hasn't sunk in, I just need to unwind and settle down but I do think I would do the same thing again.
"He obviously thought I was an easy target but now he knows I'm not."
'Opportunist thief'
Det Sgt Tony Scott said: "Joyce showed great courage to stand up to the man and force him from her home.
"We are making sure she is safe and supported but I want to praise her for her actions.
"We would never advocate people to confront a burglar, but Joyce kept her composure and removed an opportunist thief from her home.
"This intruder has targeted a pensioner thinking that she may be an easy target but she was more than a match for him and he's fled."
The man is white, thin, about 6ft 2in tall and in his early 40s with short, light brown hair.