Freeman Hospital radiographer struck off for drinking alcohol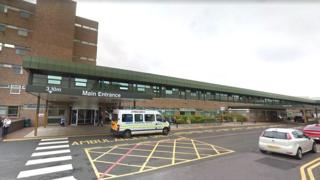 A radiographer working at a hospital under the influence of alcohol put patients at "unwarranted risk of harm" a disciplinary board has concluded.
Kate E Gibson told bosses at Newcastle's Freeman Hospital a medical condition made her smell of alcohol.
In one case her mistakes led to a patient receiving 13 times the necessary amount of radiation.
She was struck off after a ruling by the Health and Care Professionals Tribunal Service (HCPTS).
An investigation was launched after she made "a number of mistakes" at work during the summer of 2016 and concerns were raised by colleagues.
'In denial'
Errors included focusing machinery on a patient's leg bone rather than the hip joint and X-raying the wrong hip of another patient, the tribunal said.
A colleague who worked with Ms Gibson told the tribunal that at the start of the day she was unsure whether the smell was alcohol from the night before or whether it was caused by her health condition.
However, as the day progressed, the smell got stronger and she got "more and more clumsy", leaving the witness feeling sure that she was under the influence of alcohol.
Ms Gibson, who has worked at the Sunderland Royal Hospital before moving to the Freeman, did not attend the hearing.
Resulted in dismissal
The tribunal panel ruled: "The registrant had attended work, delivering radiological services to patients, whilst under the influence of alcohol on two occasions. In addition, she failed to perform X-rays correctly on three patients.
"She put patients at unwarranted risk of harm and both the profession and the informed public would be seriously concerned by her misconduct which would undermine public confidence in the profession."
A spokesperson for the Newcastle upon Tyne Hospitals NHS Foundation Trust said: "The trust considered the issues to be very serious and we carried out a full and thorough investigation, which resulted in Miss Gibson being dismissed.
"The safety of our patients is the first priority of the trust, and our investigations found that no patients were harmed as a result of Miss Gibson's actions."