Sunderland pupils filmed sniffing 'substance' at school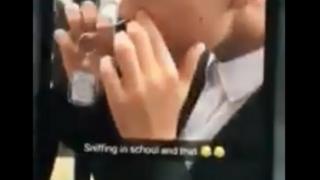 Teenagers have been filmed sniffing an "unknown substance" on school grounds.
Their school, Venerable Bede Church of England Academy in Sunderland, confirmed there had been an "incident" on Wednesday.
Three pupils - two boys from Year 9 and one from Year 10 - had been excluded while the school investigated, it said.
The video of the boys has been re-posted on Facebook and has had more than 28,000 views.
Northumbria Police said the force had been "made aware of a video circulating on social media which appears to show two pupils taking an unknown substance".
"Police are currently working with the school concerned and a full investigation is underway to establish the full facts," a spokesperson said.
The school said it operated a "zero tolerance policy with regard to drugs".
The video, which appears to have been originally recorded on the Snapchat platform, is captioned "Sniffing in school and that", followed by two emojis.
A video of a phone playing the original film was posted on Twitter with the comment: "Since when has sniffing in school became a thing?"
It has also been shared by a Facebook user with the comment: "Did not know sniffing was a thing in schools now!"
Claire Robinson, from Newcastle-based drugs charity Positive Response to Overcoming Problems of Substance misuse (Props), said: "Drug use is something we find in almost all of our secondary schools and colleges. It's a problem that's always there.
"For a good few years we did see a decrease in the number of young people reportedly taking substances.
"But over the last 12 to 18 months we have seen a slight increase."