Tyne Valley 'uniquely funded' flood defences complete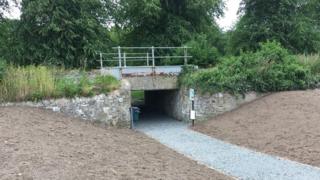 Work on a new £65,000 flood embankment has been completed after being "uniquely funded" by residents.
On 5 December 2015, 15 properties at Tyne Green, Hexham, were flooded during Storm Desmond.
The Environment Agency said it was unable to deliver new flood defences due to the small number of properties that would benefit.
Residents pooled individual grants made available to them to pay for the embankment.
Councillor Trevor Cessford said the scheme was completed due to residents' "selfless" financial contributions.
"This is great news for local residents and should hopefully provide peace of mind and security for the future," he added.
Environment Agency project manager Chris Hood, said: "They have been on a long and difficult journey and ultimately used their initiative and all worked together to pool their grants which has allowed us to build this new flood defence."