Northumbria Police 'must do more' to protect children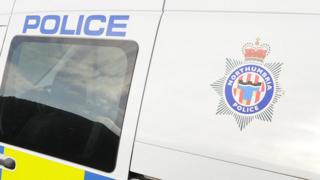 Police are failing to properly identify youngsters at risk of sexual exploitation and self-harm, government inspectors concluded.
"Inconsistencies" in Northumbria Police investigations exposed children to further "unnecessary risk", they said.
Her Majesty's Inspectorate of Constabulary (HMIC) however, acknowledged it had recently invested in child protection services.
The force said it was acting on the report's recommendations.
Inspectors said the force had a "committed and motivated" staff dedicated to child protection.
But they said they were concerned at insufficient oversight of decision-making when children were reported missing and that some signs of potential sexual exploitation and grooming were missed.
They added cases involving domestic abuse in families with children were not conducted to the "expected standard".
---
Highlighted cases:
In April 2017, a 15-year-old girl said she and others had been sexually assaulted by a man. She was not interviewed for three months and the suspect not until November. Case records were not updated and reviews were delayed. At the time of the inspection in January 2018, the case remained unresolved.
A school reported pupils were visiting a man who gave them cigarettes and alcohol. Despite inquiries identifying other children attended the suspect's address, only one of the children was spoken to and no consideration was given to wider risks of grooming or sexual exploitation.
---
HM Inspector of Constabulary Matt Parr said: "I am confident that the Northumbria Police takes its safeguarding duties very seriously.
"However, incomplete or missing information can lead to ineffective protection plans and leave children exposed to unnecessary risk."
Northumbria's Assistant Chief Constable Rachel Bacon said: "We have already started to deliver on the recommendations and we are determined to do all we can to keep the region's children safe and make sure the service they receive from Northumbria Police is outstanding."
The force has been given up to six months to bring in improvements.