Thousands of bees killed as vandals smash hives in Hebburn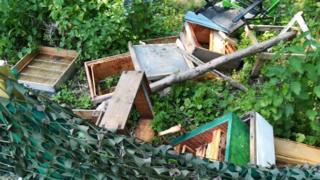 A beekeeper has hit out at "mindless" vandals who wrecked two hives, causing the death of about 120,000 bees.
They climbed over a 9ft (2.75m) fence in Carr-Ellison Park in Hebburn, South Tyneside, to destroy the hives and badly damage two others, police said.
Steve Cattanach, of South Shields, said he was "absolutely gutted" when he made the discovery.
He warned that 60,000 bees in a third hive may not survive - potentially taking the total loss up to 180,000.
Northumbria Police confirmed it has launched an investigation into the destruction of the hives.
Mr Cattanach, who has been a hobbyist beekeeper for 10 years, visits schools on Tyneside to help educate youngsters about the insects.
He said: "I walked in and the hives were just all smashed up with thousands of dead bees everywhere.
"I was absolutely gutted. To smash hives up the way they did they'd have had to have been there a while and the bees won't have been happy.
"Hopefully [the remaining ones] can still forage to get enough supplies for the winter.
"It's mindless. I don't understand what they would get from it - hopefully a few stings."
'Absolutely frantic'
The incident happened between Tuesday 22 May and Sunday 27 May but details have only just been released.
Many of the bees were crushed and their honey trampled into the ground.
Mr Cattanach estimated each hive contained between 50,000 to 60,000 bees and warned the insects in the badly damaged third hive may not survive.
Margaret Wilson, chairwoman of the British Beekeepers Association, said: "I can't understand why someone would climb a 9ft fence just to destroy the hives.
"The bees must have been absolutely frantic.
"I think those responsible would have been very well stung and I hope they were."