Ferryhill mayor resignation calls after Facebook posts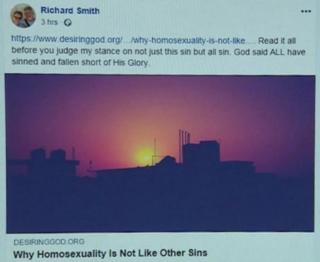 A town mayor who posted on Facebook criticising homosexuality, transgender people and Muslims is facing calls to resign.
Ferryhill mayor Richard Smith "should do the decent thing" said former mayor Brian Avery, who is also a County Durham councillor.
One post shared by Mr Smith said "transgender ideology... produced large-scale child abuse".
He said it was "absolutely not" his intention to cause offence.
Another post he shared called homosexuality a "sin" while a third said "people aren't allowed to speak the truth anymore" about gender issues.
There has been widespread criticism of Mr Smith on social media after his posts were highlighted by a drag artist living in the town.
"I was in total shock and disbelief that the mayor of Ferryhill was posting such hate against homosexuality, Islam and transgender people," said Tess Tickle.
"Everybody's entitled to their own views and beliefs. However, sharing things in a public domain in a position of power... it's not acceptable.
"I thought, it needs to be highlighted. But the reaction's been more than I ever thought. It's been shared like crazy."
Mr Avery said it would bring Ferryhill "down to a very, very low level" if Mr Smith stayed in post which he has held for a month.
"Ferryhill is a good place and we don't need this sort of thing," he said.
Mr Smith, who is also a pastor at the Emmanuel Christian Fellowship in Ferryhill, said the posts were personal and not connected to his roles as councillor or mayor.
Some residents have called for his resignation, saying it was not appropriate for a man in his position to air such views publicly.
However, if a fellow town councillor called on Mr Smith to resign, it would be up to him whether he did so.
Mr Smith said: "As a Christian and a minister of the church, anyone regardless of faith, culture, race, gender or sexuality is welcome to my support.
"I won't apologise for the conviction of my faith but I do regret any offence or harm caused as this was absolutely not my intention."