Show remembers Catherine Cookson two decades after death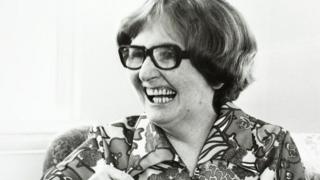 A new exhibition has opened marking the 20th anniversary of Catherine Cookson's death.
The South Shields author set many of her novels in her hometown and around the north-east of England.
At the time of her death in 1998, nine out of 10 books borrowed from British libraries were written by her, South Shields Museum said.
A prolific writer, she also painted and both pastimes helped her cope with bouts of depression.
The display, Dame Catherine Cookson: Author, Artist, Philanthropist, features two of her previously unseen paintings.
'Form of therapy'
Geoff Woodward, museum manager, said: "She had a difficult childhood and several late miscarriages caused by a rare vascular disease, led to a period of depression that took her a decade to recover from.
"Writing and creativity became a form of therapy for her."
Cookson was born at 5 Leam Lane in Tyne Dock in 1906 and was known in her youth as "Kate".
The illegitimate child of an alcoholic, she was brought up by her grandparents and grew up thinking her mother was her sister.
She used her deprived upbringing as the inspiration for some of her novels.
Despite her success as a writer, she lived a low-profile life in Newcastle and died just short of her 92nd birthday.
She was known for her generosity and donated more than £800,000 to the University of Newcastle for research into bleeding disorders.
Mr Woodward added: "From a humble and difficult upbringing she wrote numerous bestselling novels, becoming one of the most popular novelists of her time.
"Twenty years after her death her books remain popular and her legacy of supporting charities and engaging and inspiring her readers lives on."
The exhibition runs until 13 October.