Cresswell 'shallow grave' victim had 32 injuries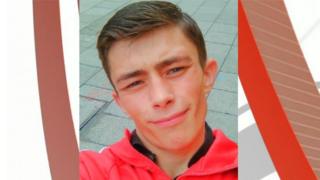 A man found unconscious and naked in a shallow grave in Northumberland had 32 injuries, a court has heard.
Darren Bonner, 24, died in hospital two weeks after he was discovered in a field in Cresswell in July.
Richard Spottiswood, 34, of Jarrow, is accused of his murder, which he denies.
Newcastle Crown Court was told that Mr Bonner died as a result of lack of oxygen to his brain, and injuries including marks from a "rod-shaped weapon", bruises and grazes.
Home Office pathologist Dr Mark Egan told the court he examined Mr Bonner in hospital once his condition had been stabilised.
He found "a relatively large number of injuries", some of which were clustered together, on his neck, face, arms, legs and torso.
'Dragged' and 'restrained'
There was a "broad" ligature mark on his neck, such as one caused by an arm lock, and he had been struck "about 12 times with a rod-shaped weapon", which would have caused "substantial pain".
Dr Egan said: "[Mr Bonner] had been exposed to undergrowth, either during transportation to the site, or some hours before that, and there's some evidence he had been dragged and some evidence he had been restrained."
Defence barrister, Andrew Hall QC, said that Mr Bonner was a "manual labourer" whose "hard physical work would have put him in contact with machinery and sharp objects".
Under cross-examination Dr Egan agreed that the scratches to his arms and legs were on places which would not be covered by a t-shirt or shorts, and were consistent with him pushing through undergrowth and hedges in the area close to where he was found.
When it was put to him that they could have been caused walking through a barley field he described it as "ridiculous", but then admitted he was not a expert on barley.
He agreed that the neck injuries were consistent with Mr Spottiswood's contention that he had Mr Bonner in a headlock.
Mr Hall said: "Richard Spottiswood says he applied pressure to Darren​ Bonner, who had been drinking and taking drugs, on his neck and he​ collapsed quickly.
"Is your conclusion and findings entirely consistent​ ​with that?"
Dr Egan said: "Yes."
The trial continues.