Sunderland children's services to get extra £6.5m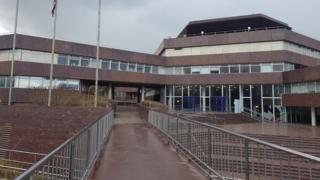 Council bosses in Sunderland have promised an extra £6.5m to support the overspending agency responsible for the city's children's services.
Together for Children (TfC) was formed after Sunderland City Council's service was rated inadequate by Ofsted inspectors in 2015.
The authority said TfC ended the financial year with a deficit of £8m.
In January, the council agreed to provide £4m to the agency to plug existing gaps in funding.
The council's cabinet heard TfC was in a "perfect storm" of having to deal with budget cuts and increased demand.
Earlier this year it emerged TfC had spent £6m on agency staff because of a "national shortage" of social workers.
The agency has told the council it expects another budget overspend of around £7.6m for 2018/19 due to the continued reliance on agency workers and a failure to deliver predicted savings.
Controlling Labour councillors blamed government-imposed budget cuts, with cabinet member for children, Louise Farthing, saying the authority did not have a "bottomless pit" of funds.
She added: "The council has a duty of care to all Sunderland's young people and children, and will always looks to meet this duty.
"In recent funding settlements, the government have recognised the need to provide additional funding to address increased demand in Adult Social Care.
"However, they have yet to recognise the need to provide additional funding to meet the demand pressures in Children's Social Care."
'Unprecedented demand'
Council leader Graeme Miller added: "Together for Children is in a perfect storm of having an increased demand on its services and having to work through a system that the Tory government have imposed on us."
Leader of the council's Liberal Democrats group, Niall Hodson, said: "The reason the council set up Together for Children was because they were failing to provide adequate social care.
"At some point they have to take responsibility for what's going on."
Conservative group leader, Robert Oliver, added: "Together for Children has cost the taxpayer an extra £8m during the last year and assurances about cutting costs have not been met.
"Many councils are facing the challenges of recruiting permanent social workers, but the failed Ofsted inspection in Sunderland is making matters worse."
A spokesman for TfC said: "Over the last financial year we have seen unprecedented demand for our services, with the number of children and families that need our support continuing to rise.
"This increase in demand means additional investment is required to ensure we can continue to work with our strategic partner organisations to support the most vulnerable children in the city."
The council has asked TfC to provide additional plans to address any funding shortfall for 2019/20.