Play retraces Civil War PoW Dunbar to Durham forced march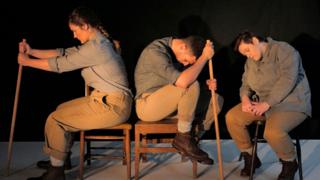 The suffering of Scottish prisoners of war forced to march to Durham after defeat by the forces of Oliver Cromwell is being re-enacted in a play.
Woven Bones follows the aftermath of the 1650 Battle of Dunbar, when Cromwell's Parliamentarian army defeated a Scottish force.
Thousands were marched south and held in Durham Cathedral, where hundreds died of cold, malnutrition and disease.
A mass grave was discovered in the cathedral's Palace Green in 2013.
Archaeologists were able to establish some of the remains belonged to the captives and further research uncovered many details about their lives.
Cap-a-Pie theatre company has collaborated with the Woven Bones team to tell their story. The play aims to "given voice" to the prisoners' forgotten story.
'Remnants of history'
Prof Chris Gerrard, from Durham University's archaeology department, said it was a chance to "put a very human interpretation on the research results".
"Many would have been ordinary young men taken from day-to-day life to fight invading Parliamentary forces.
"Their first experience of battle was a disastrous defeat... one chaotic and terrifying hour of battle changed the lives of thousands."
Author Laura Lindow said: "The team took us into the heart of the story.
"We were shown the scorch marks in the cathedral where these men - boys really - had lit fires to try to keep warm.
"The play captures imagined voices... ones that have been trodden over in the past.
"Their stories wouldn't normally go down in history, but we live among remnants of history, standing on the shoulders of these people."
The play opens on 25 June in Dunbar, and then at venues in Northumberland and Tyneside, before finishing in Durham on 7 July.