Protesters return to site of Dipton opencast mine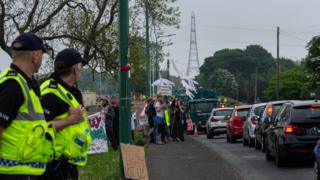 Demonstrators have returned to the site of an opencast coal mine after a lengthy protest earlier this year.
Mining firm Banks Group has permission to extract 500,000 tonnes of coal from Pont Valley, near Dipton, County Durham.
In April protestors tied themselves to trees and hid in underground tunnels claiming the mine would damage wildlife and the environment.
Dozens have now returned after it was confirmed extraction work had begun.
Campaigners claim work at the site could not commence until an access road had been built.
However, Banks Group said all permissions were in place and it was legally allowed to began extracting coal.
Some protesters lined the road to the mine in an attempt to block the main entrance.
But the firm said police were on hand to ensure staff could access the site safely from an alternative entrance.
A spokeswoman for the protesters said: "We've campaigned for 30 years to keep this area free of opencast extraction for the sake of our health and environment. If Banks think we're giving up now, they've got another thing coming."
Banks Group said: "Around 30 new jobs will be supported at the site when it is fully operational, along with others in the local supply chain.
"Site operations are scheduled to run for between two and three years, with all on site activity complete in 2021.
"Restoration will include the creation of new woodland and a nature reserve area, as well as the return of some of the land to agricultural use."
Durham Police said it had officers on site to deal with any disruption.
April's protest ended in a number of arrests.