Tyne and Wear Metro staff to wear body cameras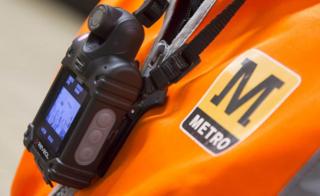 Tyne and Wear Metro staff are being issued with body cameras to help tackle anti-social behaviour and fare evasion.
The digital CCTV cameras were trialled last year and are now being rolled out permanently.
They will be worn by customer service staff on the rail system and in bus stations.
Metro services director Chris Carson said they would "make people think twice about challenging members of staff who are just doing their jobs".
"Footage can be passed to the police for them to use as evidence," he said.
'Vital evidence'
The cameras would only be switched on in order to prevent or document trouble, Metro operator Nexus said.
They will be clearly marked with a red light to show recording, so passengers know when they are being filmed.
Cameras have already been introduced on some other rail networks.
Insp Brian Buddo, of British Transport Police, said body cameras not only provided "vital evidence" but also protected rail staff and officers from malicious complaints.
"The presence of a camera can often help diffuse escalating incidents," he said.