Teenagers rescued after being swept out to sea in South Shields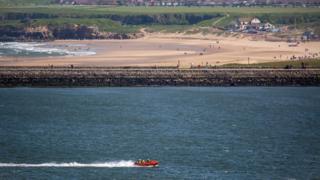 Three teenagers have been saved from drowning after they swept out to sea.
Cullercoats RNLI were called to South Shields beach where several teenagers were found scrambling out of the sea, on Saturday afternoon.
One girl, who could not swim, was spotted by the crew floating just under the surface of the water about 700m (2,300ft) from shore.
She was conscious when brought onto the lifeboat but the RNLI said she was "extremely lucky" to be saved.
It is believed the teenagers were caught up in a rip current which dragged them out to sea.
Tynemouth RNLI was then scrambled to look for two other other casualties who were unaccounted for in the water around the beach and pier.
The girl and boy, both aged 14, were located on the beach and were treated for mild hypothermia.
All three were taken to hospital and later discharged.
Tynemouth RNLI spokesman, Adrian Don, said: "These teenagers were extremely lucky.
"As we've seen today the sea can be very dangerous and unpredictable so we just want people to be safe while they're having fun at the coast.
"These teenagers were extremely lucky but our volunteer crew members' training, extensive experience and a bit of good luck averted what could easily have been a tragedy."