American tree frog makes epic journey across 'the pond'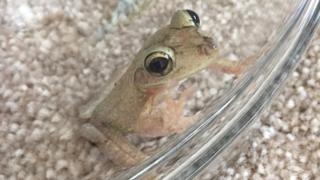 A North Tyneside family returned from an American holiday with a tiny stowaway in their luggage.
A tree frog hopped out of a suitcase when the Woods family were unpacking from a trip to Disney World in Florida.
The amphibian, about the size of a ping-pong ball, is thought to have got caught up in a pair of shorts which had been left on the balcony to dry.
Once captured, it was taken away by an RSPCA officer, and handed over to a vet who collects exotic frogs.
Martin, Ruby and and their three sons, from Holystone, had been staying at the Animal Kingdom Lodge at Walt Disney World - an African-themed resort and zoo which is home to hundreds of animals and birds.
"One of them obviously decided he fancied a little trip to the UK", Mr Woods said.
"We never even thought to check our suitcase and clothes for little critters that might have decided to crawl inside.
"It's amazing that he survived the eight-hour flight."
The RSPCA said every summer, the RSPCA receives a number of calls from holiday-makers who have returned home to find lizards, crabs, frogs and even scorpions in their suitcases.
Animal collection officer Heather Barbour said: "It's so important to thoroughly check and recheck luggage including clothes, shoes, towels and bags before leaving holiday destinations."