Landlord Hargit Bariana guilty of modern day slavery offences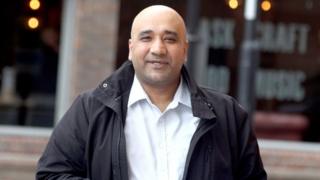 A Northumberland landlord who enslaved his tenants and forced them to work in his takeaways has been convicted of modern day slavery offences.
Hargit Bariana, 46, made victims work in Blyth and Sunderland, threatening or beating them if they did not comply.
Bariana, of Netherton Colliery, denied modern day slavery charges, robbery and supplying the drug Diazepam during his trial at Newcastle Crown Court.
He had claimed he was helping the homeless and drug users.
A jury found him guilty of six offences of requiring another person to perform forced or compulsory labour.
He was also found guilty of one charge of supplying drugs, but cleared of robbery.
His co-accused, Denise Lillico, 51, from Newcastle, was found not guilty of supplying a class C drug.
The court heard Bariana exploited four vulnerable men in Blyth by forcing them to work for free in his takeaway while they were living in a house of multiple occupancy that he owned.
The charges related to a period between 2010 and 2016, during which Bariana said he had shown the men compassion.
Bariana, known as Harry, told the court the tenants were alcoholics and drug users likely to have been homeless if he had not given them a place to stay at the property he owned in Blyth.
One witness told the trial he was sent to paint a ceiling at one of the takeaways and help strip out the other.
The man, in his 40s, said he expected payment for the work but none came.
He said he ended up working at the takeaway in Blyth, opening and closing the shop, serving chips and making pizzas.
Bariana was remanded in custody pending sentencing next month.