Newcastle photos by 'flawed visionary' T Dan Smith go on show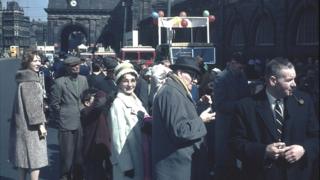 Recently-discovered photographs by a disgraced Newcastle politician have gone on show in the city.
T Dan Smith was leader of the city council in the 1960s and oversaw a programme of slum clearance, but was later jailed for accepting bribes.
His photos, which he may have used to illustrate talks about his work, were found in a box of archive material by a volunteer at the Side Gallery.
They form part of a free exhibition which runs until 3 June.
Born in 1915, Thomas Daniel Smith, the son of a miner, rose to become a prominent figure in the Labour Party in north-east England.
As leader of the city council he pledged to turn Newcastle into "the outstanding provincial city in the country" and the "Brasilia of the North".
There were slum clearance and major building projects, but questions arose over his business dealings, with allegations he took cash and other benefits for awarding contracts.
His links with John Poulson, who was found guilty of bribing public figures to win contracts, led to his downfall and in 1974 he was himself jailed for six years.
T Dan Smith died in 1993 but his legacy continues in much of the city's landscape, and he remains a controversial figure.
Some see him as a visionary who fought to redress the north-south divide and led Newcastle into the post-industrial age.
They point to the initiation of the Metro, the modern Eldon Square Shopping Centre and an international airport.
Detractors accused him of running the city council like a business entrepreneur with little accountability.
As a champion of brutalist architecture and inner-city motorways, he was also seen as responsible for the destruction of much of the city's Victorian heritage, such as Old Eldon Square.
He left an archive of his material with the AmberSide Collection in Newcastle and the photos, which were initially thought to be standard architectural shots, have now come to light.
A spokesman for the Side Gallery said the photos by the "flawed visionary" show him to have been "a keen recorder of the life of the city".
"Other photographers such as Jimmy Forsyth may have more artistically photographed the destruction of the old West End, but these photographs offer the view of a man who was centrally involved in that process."