Sunderland children's services spent £6m on agency staff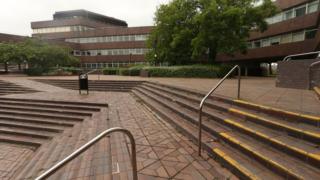 A struggling children's services department spent more than £6m on agency staff last year, figures show.
The organisation formed to run the service for Sunderland City Council had to pay for 167 temporary staff in the financial year 2017-18.
Together for Children (TfC), said a "national shortage" of social workers meant recruitment of full time staff was a challenge.
The service spent £7.7m on agency staff in the previous financial year.
TfC was formed after Sunderland City Council's service was rated inadequate by Ofsted inspectors in 2015.
'Bidding war'
A Freedom of Information (FOI) request found the agency staff hired in the last financial year included 97 social workers at a cost of £4,282,958, an average of £44,154.21 each.
A FOI request by the BBC the previous year found, by comparison, Newcastle City Council spent just under £157,000 during the same period and the 11 North East councils, excluding Sunderland, spent a total of £8.1m.
Sunderland council's Conservative opposition leader Robert Oliver said the service had been forced into a "bidding war" for staff with other local authorities.
According to the latest figures, the amount paid to agency workers in Sunderland in 2017-18 was £2.05m more than if they had been employed as full time staff.
TfC said it was "vital that we have enough social workers and support staff in place to deliver an effective and robust service".