Scottish soil for Civil War POW Durham reburial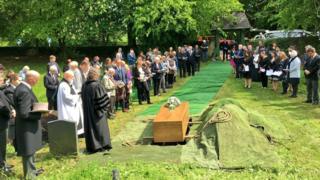 The remains of 17th Century Scottish prisoners of war are being reinterred at a graveyard in Durham.
Between 17 and 29 skeletons were discovered during building work at Palace Green in 2013.
Archaeologists established they were captives from the 1650 Battle of Dunbar who died while imprisoned in the cathedral and castle.
Soil was brought down from their home town for the reburial in a bespoke casket at Elvet Road Cemetery.
Professor Chris Gerrard, from Durham University's Department of Archaeology, said: "It has been a privilege to research these soldiers and, having learnt so much from their remains, it was important to us to lay them to rest with respect and dignity.
"Today we are able to give these men the burial they were denied when they died almost 400 years ago."
The reburial complies with standard legal conditions governing the exhumation of human remains, as set out by the Ministry of Justice.
The Durham location follows consultation with interested parties and public meetings in Durham and Dunbar.