British rugby player from Durham team dies in Sri Lanka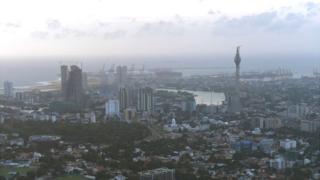 A British amateur rugby player has died and a team mate is critically ill after complaining of breathing difficulties on returning from a nightclub in Sri Lanka.
The pair had been touring the country with Durham-based Clems Pirates RFC when they visited the club in Colombo.
Thomas Howard, 25 from Durham, died shortly after being admitted to hospital on Sunday.
Tom Baty, 26, also from Durham, remains in hospital.
Durham City Rugby Football Club, which oversees the team, confirmed Mr Howard had died after "suffering breathing problems" and that Mr Baty was still receiving treatment.
The team arrived in Sri Lanka on Wednesday and began the tour with a game against Ceylonese Rugby and Football Club (CR & FC) in Colombo.
According to police in Sri Lanka, some British players went to a nightclub after the match and returned to their hotel in the early hours of Sunday.
The two players complained of breathing difficulties to the hotel management at about 10:00 on Sunday.
Families supported
Police said a post-mortem examination would be carried out later.
A police spokesman told the BBC: "Both men had returned from a nightclub and had complained of breathing difficulties, and they were admitted to the hospital, one died and another is in very critical condition."
Durham City Rugby Club said in a statement the pair suffered "non-rugby related breathing problems".
"Subsequently, one of the two has died and one remains in hospital," the statement said.
Sri Lanka Rugby Football Union director Rohan Gunerathne said the organisation was looking into the matter, but confirmed nothing happened on the rugby pitch during the match.
A British High Commission spokesman in Colombo said both families were being supported, and they were in contact with the Sri Lankan medical services.
A spokeswoman for the Foreign Office said: "Our staff are supporting the family of a British man following his death in Sri Lanka, and are in contact with the Sri Lankan hospital services.
"We are assisting the family of a British man who has been hospitalised in Sri Lanka, and are in contact with the Sri Lankan medical services."
'Sad news'
Durham County councillor Dr David Boyes said Durham City RFC was a very well organised, well equipped organisation and oversaw a number of teams.
Dr Boyes added that the club had organised numerous tours abroad in the past and had never had any problems before.
"I really feel for the families, being that far away and knowing that a family member has died must be terrible," he said.
Clem's Pirates tours regularly across Europe and further afield. It is a well known club in the area especially for its fundraising efforts and tours.
Fellow Durham County councillor Richard Ormerod said it was "very sad news" for all those involved.
"My thoughts are with the families and friends and team mates.
"They do a lot of good work raising money for charity and introducing people to rugby."