Operation Sanctuary: Dozens of taxi drivers suspended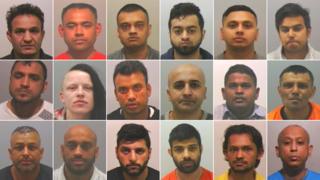 An investigation into the abuse of vulnerable girls and young women has led to the suspension of dozens of taxi drivers, a report has found.
The findings, by Northumbria Police's safeguarding department, has revealed the impact of Operation Sanctuary.
Its report said progress had been made since it began in 2014, with 97 convictions secured for offences including rape and sexual assault.
And there are 35 prosecutions still going through the court system.
Sixty taxi drivers suspected of sexual exploitation have been suspended, and more than 550 people have been referred to the immigration service for deportation.
Operation Sanctuary in numbers:
There have been 640 victim referrals since 2014
166 of them have engaged with Operation Sanctuary.
14 people have been detained and are awaiting deportation
552 names have been provided to immigration services for removal under the High Harm scheme
220 Child Abduction Warning Notices served
290 vehicles actively monitored
Two door supervisors licences revoked
There has also been an increase in supporting victims of modern day slavery offences.
Newcastle City Council has a dedicated reception centre, providing potential victims with a safe place where they can be assessed and found accommodation.
But the report said that child sexual exploitation still occurs in the Northumbria Police area and social media platforms are helping perpetrators "contact and groom victims".