King Coal exhibition shows South Tyneside's lost pits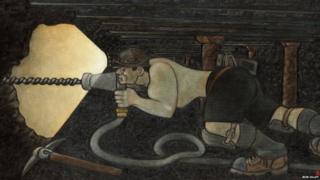 An exhibition is documenting the grime, friendships and tragedies of life at pits in north-east England.
King Coal features paintings by artist and ex-miner Bob Olley and photographs taken at collieries in South Tyneside.
Recorded interviews with miners over the decades also feature, as well as a video recreation of a garden shed that miners sat in on the picket line during the miners' strike in 1984-85.
The exhibition at South Shields Museum runs until 29 September.
A spokeswoman for the museum said the region's coal mining heritage still sparked passion and strong reactions decades after its loss.
She said a video of painter Bob Olley in action on the museum's website had been played more than 6,000 times.
Mr Olley worked at Whitburn Colliery, which closed 50 years ago.
He said: "I hope this exhibition helps this and future generations understand how important the dangerous and dirty job of the coal miner was and how it was a mainstay of the economy for almost a century."
Mr Olley added: "There were four working pits employing hundreds of miners supported by thousands of surface workers processing and moving the black gold by road, rail and sea.
"Some coal seams were worked miles out under the North Sea making the job of the miner even more unpleasant by the constantly wet conditions.
"Coal mining also produced a unique social bond that sadly, like the mines and miners, has all but disappeared."
Also on show are watercolours by Victorian artist Thomas Harrison Hair, on loan from Newcastle University's Hatton Gallery, depicting collieries the early 19th Century.
King Coal focuses on life at all South Tyneside's pits including Hebburn, Jarrow, Templetown, Whitburn and Westoe.
Geoff Woodward, manager of the museum and art gallery, said: "Heart-wrenching details of fatal tragedies over the years are explored, as well as the rich language and humour of communities that evolved around the industry."