Local Elections 2018: Councillor loses seat by 12 votes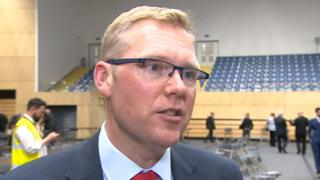 A Liberal Democrat councillor in Newcastle has lost his seat by 12 votes after a recount.
Ouseburn councillor Gareth Kane got 919 votes, but was ousted by Labour's Stephen Powers who had 931 votes.
Labour won 56 seats, up two, the Liberal Democrats secured 19, down one, with independents candidates winning three, also down one.
It is now 22 years since the Conservatives last had a Newcastle councillor.
Nick Forbes, Labour Leader of Newcastle City Council, said he was "delighted" with the result.
"They're a real endorsement that Labour in Newcastle has been standing up for our communities, really standing up to the government's austerity programme which has had such a huge impact," he said.
Labour has remained in control of Sunderland Council, although it has lost a small number of seats.
The Liberal Democrats, which had been hoping to make gains, took three seats from the party, while the Conservatives took two.
Labour did win the Copt Hill ward from an independent for a net loss of four seats.
However, with 25 seats up for grabs out of 75, there was never any chance the party would lose its majority.
On South Tyneside, Labour holds all the seats apart from one where an an independent candidate lost to a Conservative.
Labour has held on to Gateshead Council after votes on 23 seats out of 66, losing one ward to the Lib Dems and gaining one from them.
North Tyneside Council also remained under Labour control, but with some movement.
Overall Labour gained two seats, the Tories lost one, and the Lib Dems lost one.