Newcastle 'family business' slavery gang jailed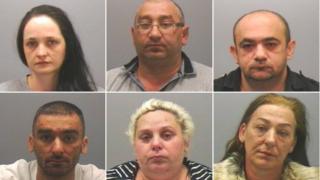 Members of a Slovakian gang who made a "family business" out of trafficking homeless people from central Europe to the UK have been jailed.
The Newcastle-based Rafael family were found guilty of forced labour, money laundering and conspiracy to traffic with a view to exploitation.
They were given jail sentences of between 10 and two years by the judge at Teesside Crown Court.
Northumbria Police said it had been "systematic exploitation".
Det Insp Sally MacDonald said the gang had generally refused to answer police questions and "didn't show any remorse".
Teesside Crown Court heard the victims had been bought and sold for as little as £200.
The group, lead by Roman Rafael, trafficked vulnerable people from Slovakia and the Czech Republic.
They forced them to sleep in cellars and cramped, shared rooms in Newcastle's West End - only allowing them to keep a fraction of the pay they earned washing cars, reclaiming bricks or working in food factories.
The victims' lack of English, documentation and money effectively trapped them, the court heard.
Over seven years, the gang collected hundreds of thousands of pounds.
Det Insp MacDonald said: "They weren't physically chained or bound at all, but effectively they were held captive.
"They were controlled by threats of violence and intimidation.
"Whilst they were working long hard hours being paid wages into a bank account, it was members of the Rafael family who were withdrawing that cash and using that cash to fund their lavish lifestyle."
Modern slavery was a "very hidden crime", the force said.
Brothers and gang leaders Roman Rafael, 33, of Farndale Road, and Marian Rafael, 39, of Brighton Grove, pleaded guilty to conspiracy to commit slavery, conspiracy to traffic people for exploitation and conspiracy to commit money laundering. Both were jailed for 10 years.
Roman's wife Angelica Chec, the 30-year-old Polish mother of his four children, and Marian's wife Ruzena Rafaelova, 38, denied those charges but were convicted after a trial. Both were jailed for five years.
The ringleader's 58-year-old mother, also called Ruzena Rafaelova, of Strathmore Crescent, was convicted of money laundering and people trafficking. She was given a four-year jail term.
The bosses' cousin Juraj Rafael, 38, of Bilbrough Gardens, and a 17-year-old were convicted of trafficking and money laundering. The former was jailed for four years and the latter two.