Washed-up wooden blocks 'part of marine litter project'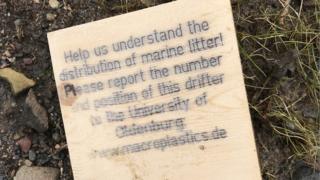 Wooden "drifters" created to track marine litter have floated from Germany to the Northumberland coast.
The blocks were released into the North Sea last year by the University of Oldenburg, which is mapping the movement of marine debris.
They each bear a unique identification code and information on how to report the find.
This month three were found at Budle Bay, one on Holy Island, and two more at Goswick.
The project describes marine litter as "a growing global issue which has already shown to have significant impacts on marine ecosystems".
It said the research aims to understand "current and future distribution patterns of plastic litter" along the coast of Germany.
One of the finds at Budle Bay was by an Environment Agency official, who was taking water samples.
She said: "This is a really interesting project which hopes to better understand the movement and spread of plastic waste that enters our waters.
"We look forward to seeing the results of the university's research."