Dipton opencast mine protesters in underground tunnels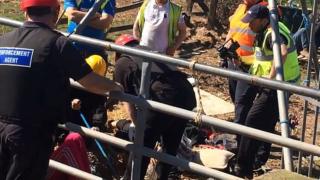 Protesters against a planned mine have barricaded themselves underground as an eviction operation gets under way.
Mining firm Banks Group wants to extract 500,000 tonnes of coal from Pont Valley at Dipton, County Durham.
But dozens of protesters set up a camp outside the site, leading to about 50 police officers, as well as bailiffs, being brought in to move them.
Durham Police said five people have been arrested - including three on suspicion of aggravated trespass.
A spokesman also confirmed at least two people were in tunnels, dug by the campaigners over several weeks, beneath the camp.
Other protesters chained themselves to engineering equipment and one man tied himself to a tree sitting in a wheelchair.
Campaigners, who have been on site for more than a month, said the opencast mine would damage the environment and local wildlife, including newts.
Protester Anne Harris said there was a risk heavy machinery being could cause the tunnels, which are about 8ft (2.4m) deep, to collapse.
She said: "I am really concerned about their safety. The men who are trying to remove them do not know which way the tunnels go.
"The tunnels are not shored and there is a real risk of collapse."
Police and bailiffs will remain at the scene throughout the night and work to extricate the remaining protesters will resume on Friday morning.
Several protesters remain at the site, including two who have scaled a tree on the edge of the field, and two who are underground.
A police spokesperson said: "The safety of everyone concerned is our paramount concern.
"We have specialist bailiff teams working with the local authority to remove the protesters as safely as possible. But the reality is that this may be a protracted operation."
Brian Buckley, Durham County Council's strategic highways manager, said: "The Banks Group has lawful authority to start work on the site, which involves moving various utilities located under the verge and widening the road to form an entrance to the site.
"The protest camp is located directly where this work needs to be completed.
"We have asked the protestors to move, but as they have failed to do so the police and the council are using our powers to remove obstructions to the highway in order to allow work to commence."
Banks Mining declined to comment while the eviction process was ongoing.