New Northumbria police chief will 'pay criminal informers'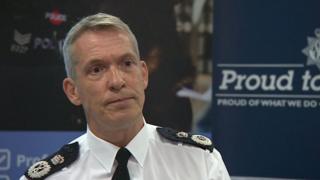 Northumbria's new chief constable has said he is ready to pay convicted criminals if they can help fight crime.
The force controversially paid a child rapist £10,000 as part of a major investigation into the grooming and abuse of young women in Newcastle.
Newly-appointed Winton Keenan said he backed the decision of his predecessor and would do the same again.
He said "every police tactic", including covert payments, would be used if it meant protecting people.
Mr Keenan, who started his police career as a constable in Sunderland 33 years ago, took over from Steve Ashman who retired after just two years in the job.
Mr Ashman said the payment made during the long-running Operation Sanctuary investigation was the "right thing" and led to the conviction of 18 people last year.
But he faced criticism, including from the children's charity the NSPCC which accused the force of "crossing a line".
Mr Keenan said: "When it concerns vulnerable people we should use every police tactic, be it covert, overt, reactive or proactive.
"To pay £10,000 in order to safeguard significant numbers of vulnerable people; wow, that's cost effective.
"That's a tiny bit of my wage bill and I would do the same thing again.
"If we are dealing with a world where criminality is involved and it it means paying somebody of that world to give information to protect other people, I will be equally as robust as Steve Ashman."
Mr Keenan said cuts of £136m over the past seven years had resulted in the loss of more than 900 officers and a similar number of police staff.
He added that continued budget cuts would result in the force having to "stop delivering some services", although he pledged to retain neighbourhood officers.