Gateshead Council: Street lights 'don't cause cancer or miscarriages'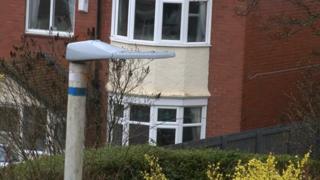 A council has said its street lights do not cause cancer or induce miscarriages after "conspiracy stories" spread online.
In a Facebook post, Gateshead Council added the lights "will not induce nosebleeds, and they are not killing all the birds and insects".
The authority said it was reassuring residents after "false stories" about it using 5G had frightened people.
Its statement came after some people expressed concerns to their councillor.
The authority clarified it had "never" used fifth generation mobile technology.
"Please be assured that there is no scientific basis or credible evidence for any of these scare stories about street lights causing cancer and other illnesses," its post read.
"We've taken advice from Public Health England who reviewed guidance issued by the World Health Organisation, the International Commission on Non-Ionizing Radiation and others, and they have confirmed that there is no risk."
"These tales are completely untrue and you should ignore them."
It said the post was intended to "set the record straight".
5G is expected to roll out widely to mobiles before 2020 and technology experts say it will vastly improve data speeds on mobile devices and will help free up bandwidth.