Grainger Games gaming store to close all 67 stores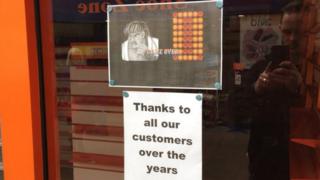 Gaming store chain Grainger Games is to close all 67 stores with a loss of about 390 jobs.
Kotaku UK reported that an email had been sent instructing staff "not to open your store" and to begin packaging up stock.
The business began as a stall in Newcastle's Grainger Market in 1997, mainly selling second-hand video games.
Richard Stanton, editor of Kotaku UK, said the chain was "of an era that is now slowly disappearing".
The BBC has contacted Grainger Games' solicitors DWF LLP for a response.
In the company's latest financial report in March 2017, it employed 390 people and made an operating loss of £1.3m.
Last week managing director Stephen Bowyer told Chronicle Live that the company's credit limits had been cut or removed by some suppliers.
He said: "This has come as shock to us all and presents a significant operating challenge driven by factors outside our control."
Mr Stanton said Grainger Games "had a huge over-reliance" on second-hand games, which became big in the early 2000s.
The advent of digital downloads meant fewer people were buying physical games, Mr Stanton said.
"It's a little bit sad for me because I think if you're from a certain generation it meant a lot," he said.
"I would buy second-hand games and the great thing from a consumer point of view is you could trade them in again. The wheeler-dealing they let you do was wonderful."
Customers lamented the loss of the chain on social media.