John Bell death: Metro worker 'killed by live overhead line'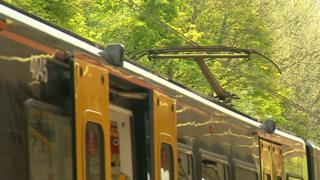 A Tyne and Wear Metro worker was electrocuted as he tried to repair an overhead line, unaware it was still live, an inquest has heard.
John Bell, 43, from Killingworth, North Tyneside, was killed as he carried out maintenance at a depot in Gosforth, Newcastle, in July 2014.
Mr Bell thought the line he was working was isolated from the power supply.
But an inquest at Newcastle Crown Court heard it was still live and he was killed.
The inquest was told that insulation to ensure the stretch of line Mr Bell - who had 16 years' experience in the job - was working on was not in place.
It also emerged paperwork confirming Mr Bell's scheduled work on the line was not in place.
Raymond Johnson, director for rail and infrastructure at metro operator Nexus, said the only such permission in place that day was for workers about 750yds (685m) away.
He told the inquest an internal investigation had concluded that the permission did not extend to the area that Mr Bell was working.
The practice of live line working - where workers continue to work when trains are running nearby - has been stopped since Mr Bell's death.
Mr Bell's family had to leave the court for a time as post-mortem evidence was heard.
The inquest continues.