Bishop of Durham 'deeply concerned' over universal credit plan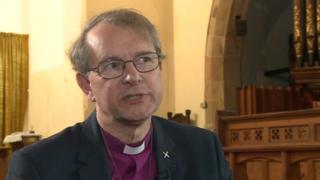 The Bishop of Durham has criticised the government over its implementation of universal credit and called for it to "revisit" aspects of the payment.
The Right Reverend Paul Butler said he remained "deeply concerned" over upcoming changes that will affect families with more than two children.
He warned the move would lead to an increase in the number of children "living in relative poverty".
The Department for Work and Pensions (DWP) said the system was "effective".
Despite backing the replacement of "too many diverse benefits" with a "unified system" of payments, he told the BBC's Sunday Politics programme forthcoming changes that mean families will only receive benefits for their first two children will lead to financial struggles.
He said: "I remain deeply concerned about the two-child limit.
"February next year sees a big change. If people fall out of work for whatever reason they will not get the protection if they've got three children now.
"The predictions from people like the independent financial services are that the child limit is actually going to have the biggest impact on increasing the number of children living in relative poverty.
"I would love the government to have the willingness to revisit that whole policy."
---
What is universal credit?
Universal credit is the benefit for working-age people, rolled out from 2013, replacing six benefits and merging them into one payment:
income support
income-based jobseeker's allowance
income-related employment and support allowance
housing benefit
child tax credit
working tax credit
It was designed to make claiming benefits simpler.
A single universal credit payment is paid directly into claimants' bank accounts to cover whichever benefits they are eligible for.
It is designed to mean that no-one faces a situation where they would be better off claiming benefits than working.
Benefit payments are reduced at a consistent rate as income and earnings increase - for every extra £1 you earn after tax, you will lose 63p in benefits.
---
Bishop Butler also expressed concerns over the way payments are now made - warning it was "unrealistic to have asked people to move from weekly payments to monthly in arrears".
Because universal credit is based on how much money you have each month, it is paid in arrears: people claiming the benefit receive money for the last month worked, not for the month ahead.
He said: "Teething problems were inevitable [however] the delay in payment is too long.
"I would love us to do what they've done in Scotland and move to fortnightly payments. Long term, I would support moving to monthly, but we need to do it in graded steps."
A DWP spokeswoman said the policy "will be delivered in the most effective, compassionate way" with "exceptions and safeguards in place".
She added: "Universal credit is designed to mirror the world of work to make that transition to work smoother.
"No-one has to wait for their first payment if they urgently need it as they can receive up to a 100% advance payment on the very same day they apply."
You can see more on this story on Sunday Politics at 11:00 BST on 25 March on BBC One in the North East and Cumbria and on iPlayer for 30 days.