Ypres burial for WW1 solider 'lost' for 103 years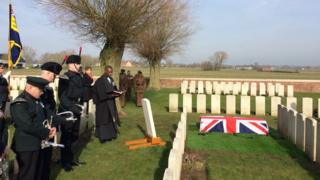 A British solider has been reinterred in Belgium 103 years after he was killed during World War One.
Pte Thomas Edmundson, who served with the Durham Light Infantry, disappeared in action near Ypres in 1915.
The remains of the 20-year-old were discovered in 2014, close to the town of Zonnebeke and identified by DNA.
Members of his family in Sunderland were among those attending the ceremony that took place with full military honours at Perth Cemetery in Ypres.
David Hall, one of the relatives who attended, said: "So many people came here this morning to see this. I'm really overwhelmed.
"It shows that he really is part of his own real family."
Representatives from the Rifles Regiment and local dignitaries also took part. The headstone was provided by the Commonwealth War Graves Commission.