Queen Elizabeth Hospital patients moved after smoke smelt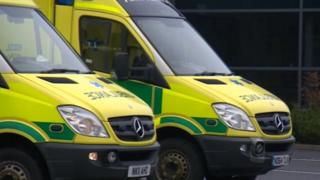 Sixty patients were moved from their wards in the middle of the night after smoke drifted into a hospital.
They were moved from two wards to the foyer of the Queen Elizabeth Hospital in Gateshead just after 05:00 GMT, hospital bosses confirmed.
The smoke was from a heating generator outside the main hospital building.
Gateshead Health Foundation Trust said staff dealt with a "difficult situation" and all patients were now back on wards four and six.
Fire crews from Hebburn, Gateshead and Birtley were called to the scene.
Hospital chief executive Ian Renwick said: "Staff dealt with a difficult situation safely and moved all the patients within 20 minutes.
"The hospital apologises to the patients for any distress the incident caused."
He said staff had smelt smoke and taken the decision to move patients as a precaution.
He added: "The fire service and our own staff ensured the area was safe before patients were moved back.
"Senior medical staff were on hand during the move and I'd like to thank all our teams for their quick thinking and for the care they provided to patients."
He said it had not yet been established whether the generator was on fire or just emitting smoke.