Ex-housing boss got 'excessive' £1m payout without approval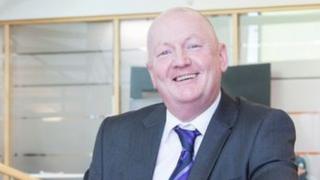 A former senior manager at the North East's largest housing association received a payout of more than £1m that had not been approved by its board, the BBC understands.
Steve Lanaghan was given the pay-off after leaving his role as assistant chief executive of Sunderland's Gentoo in 2016.
The company is pursuing legal action to recover what it described as an "excessive" payment.
Mr Lanaghan denies any "wrong-doing".
It is understood he also received a gift of a company car.
When the payment came to light in September 2017 following an internal investigation, the not-for-profit organisation, which owns and manages almost 30,000 former council homes, reported itself to the government regulator, Homes England.
Gentoo would not confirm who received the money or the exact amount.
However its new chairman, Keith Loraine, said: "The issue was as a result of a severance payment made to a senior manager within the organisation which wasn't approved by the board.
"When the new board discovered that, we felt it was important to self-report that to the regulator."
Mr Loraine, who took up the post in September, added: "It was deemed by the board to be an excessive amount that was in breach of the guidelines issued by the regulator, and we're now taking due legal action to recover those monies."
After investigating the matter, Homes England released its judgement in October 2017 and said Gentoo had "failed" to govern itself at the "most basic level" and added that its board was "weak".
In a statement, Mr Lanaghan's solicitor said: "For legal reasons Mr Lanaghan is unable to comment on the matters raised in this broadcast, save as to clarify that he denies any allegations of wrong-doing."
Shortly after Mr Lanaghan's payout was uncovered, Gentoo's then-chief executive, John Craggs, resigned with immediate effect.
The BBC has established Mr Craggs had been suspended pending possible disciplinary action and left without a severance deal.
He has since been billed by Gentoo for work done on his £400,000 house in Durham.
When approached for an interview, Mr Craggs said "for legal reasons" he had no comment to make.
For more on this story watch Inside Out on BBC One in the North East and Cumbria at 19:30 GMT. The programme will also be available on the iPlayer for 30 days.