Shiney Row burning car death accused 'had sex with victim'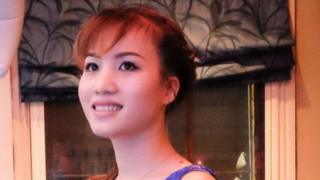 Forensic evidence indicates a man accused of raping and murdering a woman found dead in a burning car had sex with her, a court heard.
The body of Quyen Ngoc Nguyen, 28, from Killingworth, was found in Shiney Row on Wearside in August.
Stephen Unwin, 40, of Houghton-le-Spring and William McFall, 51, of Blackpool, deny her rape and murder.
Newcastle Crown Court heard Miss Nguyen's DNA and a spot of her blood were found on Stephen Unwin's trousers.
Forensic scientist Dr Mark Dale said internal swab samples taken from her also showed Mr Unwin's DNA, suggesting sexual activity on or around the night of her death.
'DNA on syringe'
Mr Unwin claimed he had met Miss Nguyen for consensual sex a few days before her death, the jury was told.
The prosecution alleges the men held Miss Nguyen captive at Mr Unwin's home on St Oswald's Terrace for several hours.
Mr McFall, of Waterloo Road, Blackpool, had been staying at the house.
The men raped and sexually assaulted the victim, drove her to nearby allotments in her car and set it on fire, the court was told.
Jurors heard her DNA was found on a gun belonging to Mr McFall and also in a pair of his shorts, but less than would be expected after sexual activity.
A needle found in the house yard also had the victim's DNA on it and "may have been used to inject" her, Dr Dale said.
There was not enough evidence to say who had handled the syringe, he said.
Ms Nguyen helped her sister run a nail salon in Gateshead, having moved to the UK from Vietnam in 2010.
She also enabled people without the correct immigration documents to rent properties, some of which were used to cultivate cannabis, the court has heard.
The defendants had met her through their maintenance work on rental properties, jurors have been told.
The trial continues.