Sunderland hospital staff sleep on wards to beat snow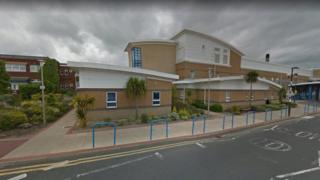 Doctors and nurses have slept at north east of England hospitals to ensure cover for patients.
Some were brought to work by volunteer drivers in four-wheel drive cars.
NHS staff at Sunderland Royal Hospital plan to stay overnight again, and trusts on Teesside and Newcastle have offered staff beds.
Paediatric nurse Lisa Gerrett said: "Even if I could get home tonight, I would still have to manage to get in again in the morning."
The mother of four from Chester-le-Street was brought in to work by a volunteer driver.
'What dedication'
"If I stay, it means the driver can collect other nurses," she said.
"It also means I can cover for night staff who cannot get in, if necessary."
The praise for staff "makes it all worthwhile", she said
When the City Hospitals Sunderland NHS Trust posted a message on Facebook about staff sleeping on site, more than 20,000 people liked it.
One person wrote: "What dedication! The NHS wouldn't run without people like you all."
A hospital spokeswoman said it had been a "massive team effort".
"The camaraderie shown has been pretty amazing," she said.