Northumberland A1 two-way road closure postponed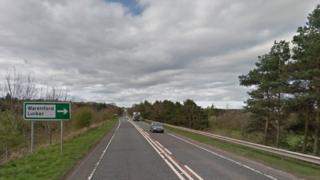 Unpopular roadworks which would have completely closed the A1 in Northumberland have been postponed.
A four-mile stretch between Wandylaw and Warenford was to be shut for resurfacing work in both directions for 17 days from next Friday.
Northumberland County Council wanted the work halted, saying local consultation had been "last minute".
Following a public meeting, Highways England said it had "decided to reschedule" the work.
Local people had expressed concern about long diversions.
Head of scheme delivery David Wheatley said Highway England would be reviewing comments it had received.
"We may need to carry out some maintenance throughout the year on this section to ensure the road surface remains in a safe and suitable condition," he said.
No new date for work has been set.
Highways England had said a total closure would be quicker and cheaper than alternatives.
Berwick Conservative MP Anne-Marie Trevelyan, who organised the meeting, accepted this but argued it had not consulted local people properly.