Northumberland schools at risk of closure under proposed shake-up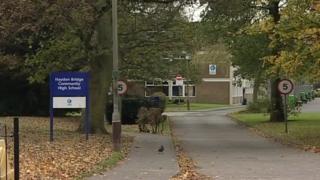 A number of first and middle schools in Northumberland face being closed or merged under proposals unveiled by the county council.
The Conservative-led authority said the current system "appears not be financially or educationally viable in the long term".
It has set out three options for schools in the west of the county.
Critics claim the plans would see children travelling long distances and put communities at risk.
Youngsters in the Hexham, Haltwhistle and Haydon Bridge areas will be affected.
The consultation was triggered by questions over the future of Haydon Bridge High School after the Bright Tribe organisation withdrew its proposed academy sponsorship in November amid concerns over falling pupil numbers.
The proposals
Model A: Haydon Bridge High School would merge with Hexham's Queen Elizabeth High School with the Haydon Bridge site closing. Additionally, a merger of first schools to create larger first or new primary schools would see eight existing sites closing
Model B: Haydon Bridge High School would merge with Queen Elizabeth High School, while all middle schools and up to seven first schools would close or merge with newly established primary schools
Model C: A new school for pupils aged 4-16 would be built in Haydon Bridge and a new school for 9-18 year olds would be constructed in Hexham. Bellingham Middle and Haltwhistle Upper schools would close and merge with neighbouring schools. Up to 10 first and primary schools would merge
Deputy council leader Wayne Daley said: "Unfortunately the current structure, with the high number of small and very small schools, together with no sign of significant growth in pupil numbers means the current education system appears not to be financially or educationally viable in the long term."
However, councillor Grant Davey, leader of the Labour opposition, said he was "extremely disappointed" with the "massive changes" proposed and called on parents to "stick up for their local schools" by registering their views.
He added: "Children as young as four will have to use public transport. It's an awful way to treat families.
"A lot of jobs are also at risk - teaching staff, grounds staff, ancillary staff.
"I take on board the council's concerns and national changes to school funding have hit rural areas, but there are other ways to do it."
The council carried out an informal consultation with school and academy leaders last month.
Views are being sought from the public until 9 April with a final decision expected in July.
Changes would be phased in from September 2019 until 2022.