Baby inquest: Paul Mitchelhill's death was 'avoidable'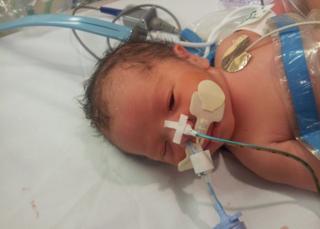 The death of a two-day-old baby after emergency surgery could have been avoided, an inquest has heard.
Paul Mitchelhill, from Carlisle, died after being operated on by locum Emmanuel Towuaghanste in October 2013.
A senior colleague at the Great North Children's Hospital said opting for surgery had been "disastrous".
Paediatric surgeon Bruce Jaffray, who now heads the department, told the inquest it "converted a stable situation into uncontrolled chaos".
He told the inquest he had seen just six cases of the baby's rare defect, exomphalos major, in his 20 years experience.
The condition results in a weakness in the abdomen where the umbilical cord joins the body.
'No inkling'
Mr Jaffray would have treated it "conservatively" and not operated as the baby was not at immediate risk, he said.
Some surgeons operated immediately while others waited, the inquest at Newcastle's Civic Centre heard.
After the surgery baby Paul developed abdominal compartment syndrome, where increased pressure reduces blood flow to the organs.
Mr Towuaghanste, known as Mr Towu, "did not appear to have any inking" of what had happened and his role in it, Mr Jaffray said.
"There was no suggestion he had done anything out of the ordinary, that he was in any way at fault, or regretted his actions," he said.
As the baby's condition deteriorated Mr Jaffray decided he could not survive, he told the inquest.
"The only thing was to put the baby in his mother's arms and allow the baby to die," he said.
There had been a change of policy so locums "we don't know personally" were not now used, Mr Jaffray said.
The inquest continues.