Blyth heart op woman needs £50k for Mexico medical bills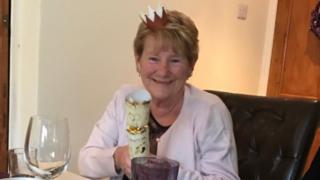 The family of a great-grandmother who needed heart surgery after falling ill on a cruise are trying to raise more than £50,000 to pay her medical bills.
Joyce Kettle, from Blyth in Northumberland, had to be taken to hospital from the cruise ship off the Mexico coast on Monday.
But the 74-year-old found her holiday insurance only covered European trips.
Her family have launched an online fundraising appeal and said they "just want her home".
Ms Kettle is in a hospital on Cozumel, a holiday island near Cancun, after suffering breathing difficulties on the Marella Discovery 2, owned by holiday firm Tui.
Three stents needed to be put into her heart in an emergency operation, her family said.
Ms Kettle's medical bills have so far reached $72,626 (£51,510) but she has no savings, according to her daughter Leanne.
She said: "We have spoken briefly to her in the hospital and she seems OK in herself. She just wants to get home.
"She's stuck there all on her own. It's a horrible situation to be in."
She said she was planning to travel to Mexico to co-ordinate efforts to get her mother home.
British consular staff in Cancun have offered advice to the family.
An Foreign Office spokesperson said: "We are assisting a British woman in Mexico and her family in the UK. Our staff are in contact with the Mexican authorities."
A spokeswoman for the holiday company said: "We're sorry to hear that Ms Kettle has been taken ill while on her cruise and hope she gets well soon.
"Our cruise team supported the customer with the arrangements for her to seek medical assistance in Mexico and have been in close contact with the customer's family.
"We would like to remind customers that prefer to organise their own travel insurance that they need to ensure that their coverage is of a suitable level and covers the destination that they're travelling to."