Newcastle terror-accused had bomb video 'for research'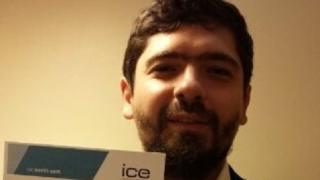 A civil engineer accused of terror charges said he downloaded a bomb-making video "for scientific research".
Abdulrahman Alcharbati also told Newcastle Crown Court he was experiencing a manic bipolar episode when he shared videos about the Islamic State group on Facebook.
The 31-year-old denies six counts of sharing terrorist material and one of possessing a terrorist document.
He said his brother was killed by terrorists in Syria three years ago.
Mr Alcharbati said he downloaded a manual about explosives "out of curiosity".
The defendant, of Westholme Gardens, Newcastle, said: "I'm a civil engineer, I'm a scientist, I am interested in this topic."
He told jurors he was interested in controlled explosions and load bearing in buildings.
He said: "I might have downloaded it for the purpose of scientific research."
'Respect this country'
The married father-of-one, who was born in Syria and studied for a master's degree at Sunderland University, also told the court he had bipolar disorder and was experiencing a manic episode when he posted the links on Facebook in February 2017.
He had his account suspended and reactivated several times before his arrest, the court heard.
Asked by Bunty Bantra, defending, about the posts, he denied supporting banned terror organisations.
He added: "I came to this country to study and applied for asylum.
"I respect this country a lot, I respect its laws.
"I was going through a manic episode."
The trial continues.