Major work on A184 Felling bypass set to last months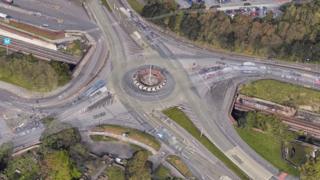 Motorists are being warned to expect months of delays as major work on a bypass begins.
Concrete bridges supporting the Heworth roundabout on the A184 Felling bypass have been damaged by water and need repair, Gateshead Council said.
The road has been closed and when it reopens on Monday will be down to single lanes.
The council said on average more than 42,000 cars use the route every day. The work could take up to seven months.
'Incovenient'
Shields Road either side of the Heworth roundabout will not re-open to traffic, apart from buses, until after the repair work is finished.
The bridges carry the road over rail and Metro lines and engineers fear spalling (when water seeps through the concrete and rusts steel reinforcing rods) could cause "irreparable structural damage".
Repair work will involve the complete removal of the road surface to allow the bridge decks to be waterproofed and a new road surface then applied.
Anneliese Hutchinson from the council said: "We know this work will be especially inconvenient for residents of Pelaw and Bill Quay, but we've looked at all of the alternatives and all of them would have caused even greater congestion and taken longer to complete."
Metro and train services should be unaffected.