Blyth dog attack: Claire Neal jailed after children attacked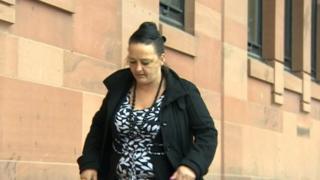 A woman whose dog attacked a group of 12 children in a Northumberland park has been jailed.
The Staffordshire bull terrier bit the children when it escaped from a house in Blyth in May last year.
At Newcastle Crown Court last month, Claire Neal, 38, of Chasedale Crescent, Blyth, admitted owning a dog that was dangerously out of control.
She was jailed for four years. The court heard she had said "Oh no, not again", after hearing about the attack.
Neal had initially denied the charge, claiming the dog called Marley, belonged to the courts as there was already a destruction order on the animal after an earlier attack. But, she later changed her plea.
Following the latest attack, the hearing was told how a teenage girl had found Marley in the street as she was playing with friends.
She decided to take the dog home in order for her mother to contact the RSPCA.
But, as they passed the park in Burns Avenue, the dog got out of control and attacked the children, leaving them needing hospital treatment for puncture wounds.
'Extremely frightening'
Neighbours nearby rushed from their homes to help and later managed to tie Marley up.
The dog has since been destroyed.
PC Craig Arkley, of Northumbria Police, said: "This was an extremely frightening incident for the children who were injured when the dog ran amok in a Blyth park last year.
"This has been very upsetting for the large number of families involved in this incident and the wider Blyth community who were also concerned about what had happened.
"Perhaps most upsetting of all is the knowledge that this could have been avoided if the dog had been properly restrained and not allowed to get into the park area where children were playing."