Transplant baby Charlie Douthwaite 'rejecting heart'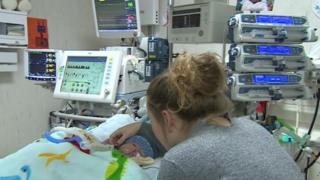 A nine-week-old baby who received a new heart may be rejecting the organ.
A Europe-wide appeal to help Charlie Douthwaite - who was born with heart defect - was launched last month and he underwent a transplant last week.
But his father Steven Douthwaite has posted on Facebook that Charlie has had a "rough few days" and may be rejecting the new heart.
Charlie, who has hypoplastic left heart syndrome, was the youngest patient on the UK transplant waiting list.
After his nine-hour operation at Newcastle's Freeman Hospital, Charlie's mother, Tracie Wright, said the donor family had given him "a second chance at life".
Mr Douthwaite said on Facebook Charlie's blood pressure had dropped and medics suspected he had sepsis.
'On edge'
He also said his son had had to undergo open heart surgery again.
The post said: "Charlie has had a rough few days - we were told this could be the first stage of his body rejecting the heart, we also found out that they believe Charlie has caught sepsis so they have started him on antibiotics.
"Terrible feeling being told that his body might of been rejecting the heart, not nice living every second of your life on edge."
Charlie had to have open heart surgery when he was three days old, after being born weighing 6lb 5oz at the Royal Victoria Infirmary in Newcastle.
A spokesman for the hospital said on Friday Charlie was "stable".