Julie Parkin murdered by husband after child image discovery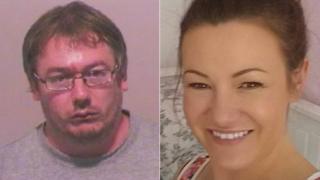 A man stabbed his wife to death after she discovered he had been making secret recordings of videos involving a child.
Julie Parkin, 39, was knifed 27 times at her home in Sunderland, in June.
Her husband, Adam Parkin, admitted her murder and the attempted murder of a second victim, who cannot be named.
The 35-year-old, who also admitted three charges of making indecent photographs of a child, was jailed for life with a minimum term of 23 years.
Prosecutor Robert Smith QC told Newcastle Crown Court that the couple had gone for a walk and a drive to discuss what Mrs Parkin had found.
'She was so sad'
Parkin said he had intended to kill himself but instead "snapped" and turned the knife on his wife.
She was stabbed in the head, neck and chest, and the tip of the blade was left lodged in her skull.
Parkin drove himself to the police station in Southwick just after midnight.
Witnesses heard him say: "I need the police, I've just killed my wife," the court was told.
While in custody, Parkin also said: "She was so sad when she found out what I really am.
"We were going to split. She said, 'don't kill yourself,' and I should have done that. I should have killed myself.
"There's something wrong with me."
Police discovered evidence of grooming on Parkin's mobile phone and searches for child abuse on his computer.
Mrs Parkin taught at West Boldon Primary School where she was described as "highly respected".