Man raped teenager and transgender man in Newcastle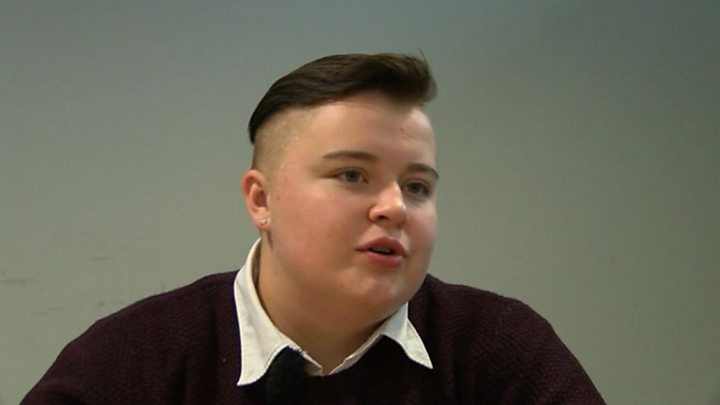 A man who raped a transgender man and a drunk teenager has been jailed for 15 years.
Shelton Dube, 24, first targeted a young woman who had been out with friends in Newcastle by latching on to her group in January 2016.
He then raped Scott Wilson, then 19, at a hostel where they lived three months later.
Dube, of Dorking Avenue, North Shields, was convicted at an earlier trial at Durham Crown Court.
He attacked Mr Wilson, knowing that his victim was transgender, identified as a man and was attracted to women.
Mr Wilson said he had waived his right to anonymity to tell the LGBT community "they will be believed" if they come forward to report similar incidents.
Durham Crown Court heard "academically gifted" Dube pounced on his first victim after encouraging her to drink from a bottle of vodka as they shared a taxi in January 2016.
The woman, who cannot be identified, woke in her own bed to find the defendant raping her, the court was told.
Three months later Dube raped Mr Wilson at the Tyneside Foyer where they both lived.
Both victims were praised by Judge Christopher Prince for making "highly articulate" statements to the court.
The woman said: "I don't know how long it will take me to fully trust others and be in a relationship that is not under strain from what Shelton Dube did to me."
Mr Wilson said he was undergoing hormone treatment with a view to have surgery to change gender.
He added: "During the rape ordeal I felt helpless and numb, I didn't know what to do."
Dube, who worked handing out flyers for Newcastle bars, claimed both events were consensual during his trial.
Glenn Gatland, defending, provided references which said Dube was a talented athlete, gifted academically and a churchgoer.
Judge Prince jailed Dube for 10 years for the rape on the woman and a further five for the rape of Mr Wilson.