More than 250 North East jobs lost as Owen Pugh goes under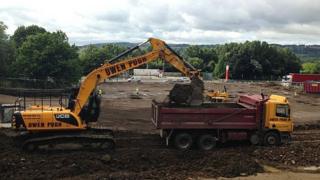 More than 250 people are to be made redundant after a North East construction firm announced on Monday it was to cease trading.
Administrators said one part of Owen Pugh, which operates Marsden Quarry near Sunderland, will continue while a buyer is found, securing 30 jobs.
A further nine have been retained at the group's head office in the short term to assist the administrators.
The failure is blamed on cash-flow problems due to loss-making projects.
Christopher Petts and David Dunckley of Grant Thornton were appointed joint administrators on Monday and discussions with interested parties have been held.
'Not viable'
Mr Petts said there had been "a considerable amount of interest" from potential buyers of the Marsden Quarry operator, Owen Pugh Aggregate.
"Unfortunately, and despite our best efforts, the position regarding the other businesses making up the group is less positive," he said.
"Upon our appointment it quickly become clear that the civil engineering contracting arm of the business was not viable and further trading could not be supported."
He said the "reluctant decision" had been taken to close Owen Pugh & Company, Owen Pugh Civil Engineering, Owen Pugh Contracts, and HCS Drain Services, with 257 employees made redundant.
"Joint administrators will continue to work with those employees affected to assist them through this difficult time and to help them find new employment, Mr Petts added.