'Spider-Man' sighting prompts Sunderland coastal rescue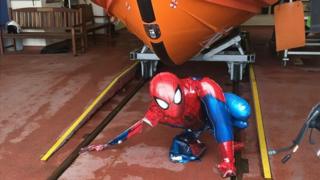 A sighting of a "superhero" prompted a rescue operation off the coast of Sunderland.
RNLI volunteers and coastguard teams were called to Ryhope Dene on Sunday, after people thought they had seen a parachutist land in the water.
A member of the coastguard team spotted the object through binoculars and it turned out to be a large Spider-Man balloon.
It was recovered by lifeboat to prevent further callouts.
A spokesman for Sunderland RNLI said: "The incident was a false alarm with good intent and the person did the right thing to call us to confirm no one was in danger."