Alzheimer's Society Memory Walk 'raises £362,000'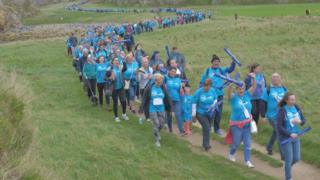 More than 5,000 people have taken part in a charity event on Tyneside raising funds to tackle Alzheimer's disease.
The Memory Walk saw participants complete 7km (4.3 miles) along a coastal route, starting from Bents Park in South Shields.
Former Emmerdale actor John Middleton got Saturday's event under way. His character, vicar Ashley Thomas, was diagnosed with the disease.
Organisers Alzheimer's Society said an estimated £362,000 was raised.